Baby Jade Bonsai Tree 30 years old, 10" x 12" x 24" tall
Regular price
Sale price
275.00 USD
Unit price
per
Sale
Sold out
             

Baby Jade Bonsai Tree


                  (Portulacaria Afra)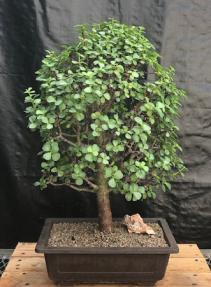 The definition of the term "Bonsai" is a plant, usually a tree or shrub, that is grown in a container and made to look like a mature tree through the use of various training techniques. The plant usually does not exceed 1 meter in height. The art of bonsai as we know it, traces back almost 2000 yrs.
The word 'bonsai' is made up of 2 Japanese characters or word phrases, "bon" & "sai." "Bon" is the pot, tray or container; the "sai" is the tree or potted planting. The original word Bonsai comes from the Chinese word "P'en Tsai" which sounds similar to bonsai and has nearly the same meaning.
It couldn't be further from the true spirit of bonsai, however, if we restrict our interpretation in this way. It is indeed a tree in a pot, but a tree that has been subjected to a number of horticultural and aesthetic disciplines through which visual harmony and botanical well being is achieved. The essence of classical Bonsai is to produce a healthy miniature representation of a tree.
Support provided for management of your Bonsai Tree
Large selection of Bonsai Trees to add to your collection
Product resources available for health of your Bonsai Tree 
Shipped to you promptly via UPS. US only.
7 day return policy for perishable items
20% restocking fee can be resold as new and 50% if can be resold as used.
You will always receive Bonsai Tree quality and customer service
THIS BONSAI TREE FACTS:

Baby Jade Bonsai Tree


(Portulacaria Afra)

This amazing  Bonsai, also known as the "Elephant Bush", is native to South Africa and has pale green leaves that are almost round and about one-third the size of the regular Jade plant. The fleshy trunk, branches, and leaves stores water. An excellent Bonsai Tree for indoors.

30 years old, 10" x 12" x 24" tall.
Recommended indoor Bonsai Tree grown and trained 
Potted in a 12" brown rectangle mica container. Suitable humidity/drip tray is recommended. To purchase add $16.95 to your order.
Share